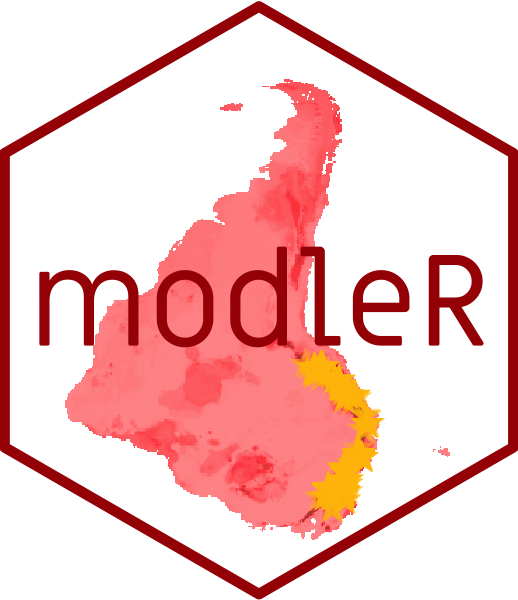 modleR is a workflow based on package dismo (Hijmans et al. 2017), designed to automatize some of the common steps when performing ecological niche models. Given the occurrence records and a set of environmental predictors, it prepares the data by cleaning for duplicates, removing occurrences with no environmental information and applying some geographic and environmental filters. It executes crossvalidation or bootstrap procedures, then it performs ecological niche models using several algorithms, some of which are already implemented in the dismo package, and others come from other packages in the R environment, such as glm, Support Vector Machines and Random Forests.
Installing
Currently modleR can be installed from GitHub:



# Without vignette




remotes

::

install_github

(

"Model-R/modleR"

, build 

=

 

TRUE

)




# With vignette




remotes

::

install_github

(

"Model-R/modleR"

,
                        build 

=

 

TRUE

,
                        dependencies 

=

 

TRUE

,
                        build_opts 

=

 c

(

"--no-resave-data"

, 

"--no-manual"

)

,
                        build_vignettes 

=

 

TRUE

)
Note regarding vignette building: the default parameters in build_opts include --no-build-vignettes. In theory, removing this will include the vignette on the installation but we have found that build_vignettes = TRUE is also necessary. During installation, R may ask to install or update some packages. If any of these return an error you can install them apart by running install.packages() and retry. When building the vignette, package rJava and a JDK will be needed. Also, make sure that the maxent.jar file is available and in the java folder of package dismo. Please download it here. Vignette building may take a while during installation.
The workflow
The workflow consists of mainly four functions that should be used sequentially.
Workflows with multiple species
Our example_occs dataset has data for four species. An option to do the several models is to use a for loop
Another option is to use the purrr package (Henry and Wickham 2017).
These workflows can also be paralellized by species or species algorithms
References
Araújo, M, and M New. 2007.
"Ensemble Forecasting of Species Distributions."
Trends in Ecology & Evolution
22 (1): 42–47.
https://doi.org/10.1016/j.tree.2006.09.010
.
Elith, J., J. R. Leathwick, and T. Hastie. 2009.
"A Working Guide to Boosted Regression Trees."
Journal of Animal Ecology
77 (4): 802–13.
https://doi.org/fn6m6v
.
Hastie, Trevor, Robert Tibshirani, and Jerome Friedman. 2001.
The Elements of Statistical Learning: Data Mining, Inference, and Prediction
.
Springer Heidelberg
.
Henry, Lionel, and Hadley Wickham. 2017.
"Purrr:

Functional Programming Tools

.

R

Package Version 0.2.4."
Hijmans, Robert J., Steven Phillips, John Leathwick, and Jane Elith. 2017.
"Dismo:

Species Distribution Modeling

.

R

Package Version 1.1-4."
Karatzoglou, Alexandros, Alex Smola, Kurt Hornik, and Achim Zeileis. 2004.
"Kernlab -

An S4 Package

for

Kernel Methods

in

R

."
Journal of Statistical Software
11 (9): 1–20.
Liaw, Andy, and Matthew Wiener. 2002.
"Classification and

Regression

by

randomForest

."
R News
2 (3): 18–22.
Meyer, David, Evgenia Dimitriadou, Kurt Hornik, Andreas Weingessel, and Friedrich Leisch. 2017.
"E1071:

Misc Functions

of the

Department

of

Statistics

,

Probability Theory Group

(

Formerly

:

E1071

),

TU Wien

."